Free AQTESOLV Demo
Follow
AQTESOLV
Follow AQTESOLV on LinkedIn!
Download AQTESOLV Demo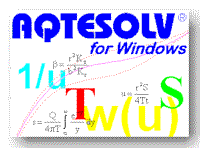 Download a free copy of the demo and see for yourself why AQTESOLV is by far the best software for aquifer test analysis!
Demo Capabilities
There is no time limit on the use of the demo.
The demo allows you to explore all of the features in

AQTESOLV

with a few exceptions such as printing results, saving files and groundwater mounding.
Please contact us if you have any questions regarding the AQTESOLV demo.