Support
Free
Support
AQTESOLV software support is prompt, unlimited and free!
Register
AQTESOLV
Register your copy of AQTESOLV for the highest quality support.
AQTESOLV
Training Courses
Hone your skills with online training from the author of AQTESOLV!
Manuals And
Documentation
Help System
When looking for answers to questions, start by referring to the electronic help system (manual) for AQTESOLV which is now easier than ever to use.
To access the help system, choose Contents and Index from Help menu of the AQTESOLV software. The help system is organized like a book with an in-depth index, extensive cross-referencing and search capabilities.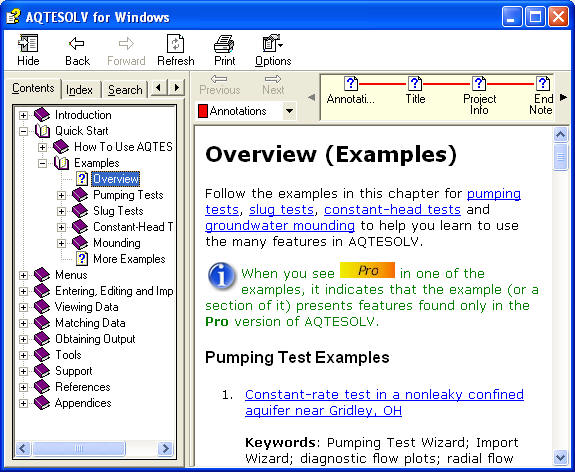 Tips
The Quick Start chapter found in the Contents tab of the help system (see above) contains tutorials for using the software.
Type a keyword into the Index tab to find specific topics in the help system.
To obtain context-sensitive help while using

AQTESOLV

, click the Help buttons or press F1.
PDF Manual
If you would like a printed version of the manual, you may download a free PDF copy. Note that the electronic help system described above contains the most complete and up-to-date help information for the software; certain topics found in the help system are not found in the PDF manual.
Before printing the PDF manual, please be aware that it currently exceeds 500 pages.
Citation
To reference AQTESOLV in a publication, please find a citation in the Welcome topic of the electronic help system (Help file) installed with version 4.x of the software.
Additional
Support Resources
You are encouraged to explore the many detailed tutorials contained in the Quick Start chapter of the AQTESOLV manual when first learning to use the software.
The AQTESOLV website also contains many additional free support resources including the Knowledge Base and Aquifer Testing 101 sections.
Affordable online training courses are available from Glenn M. Duffield, the author of AQTESOLV. Please contact us for more information.
Subscribe to HydroSOLVE's YouTube channel and view our AQTESOLV videos!
E-Mail And
Phone Support
HydroSOLVE, Inc.
2303 Horseferry Court




Reston

,

VA

20191

USA



Tel
+1 703 264 9024
Fax
+1 209 254 8831
hydrosolve@aqtesolv.com
HydroSOLVE, Inc. provides free software support with every purchase of AQTESOLV.
Email us with your

AQTESOLV

data sets for the most effective answers to your questions.
Call us for telephone support from 9 AM to 5 PM Eastern US Time (GMT-05:00).
Important! Please have your software serial number available when contacting us for software support.
Testimonials
"Fantastic tech support!"
Christopher J. Neville, SSP&A, Inc.
"Thank you for your help and excellent, prompt service."
Nicole Mosher, Delta Environmental, Inc.
"The help documentation and examples are superb."
Mark Cunnane, PE, PG, Western Groundwater Services, LLC
"Thank you again for your time--it was VERY helpful."
Jennifer Vinci, GES, Inc.
"The support for AQTESOLV is unparalleled."
Harm Maathuis, Saskatchewan Research Council
"Thanks for your high level of customer service."
Regina Marker, Millenium Science & Engineering, Inc.
"Thank you very much for your tech support--it is the best. I will recommend your program to anyone."
Li Ma, Landau Associates
"As usual, you guys have the best tech support service on the planet."
Paul Williams, SRK Consulting